'Cause I can do it in the mix
Nema nam druge nego u ove vruče ljetne dane zaplesati uz bijesne ritmove. 🙂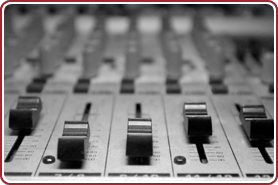 Ovo je bez daljnjega prava stvar za tako nešto:
Video Megamix sa izmixanim, stranim i domaćim stvarima, bijesne teme koje će Vam svaka ispričati svoju priču in the mix, a ako Vam se neka stvar i ne sviđa (ne vjerujem, ali eto 🙂 ) nije bad jer traje svega nekoliko sekundi. 🙂
dee jay Luke Short – Dub No1 😉 Zaplešimo uz Megamix Video
sa albuma New Session
Dub No1 – In The Mix Video
Dakle,  jedna je dobra, a jedna loša stvar; teme u mixu ne traju predugo, ali zato će Vam biti krivo da neke i prestanu brzo. 🙂 To je "boljka" svih megamixova, ali tako mora biti. Na koncu, sve što je lijepo kratko traje. 🙂
Za one koje dublje zanimaju pojedinosti o ovom megamixu, evo ih:
Noseći bubanj, koji drži cijeli megamix i u koji su složene sve teme pripada grupi Indeep, i njihovoj legendarnoj stvari, a koja će se još nekoliko puta pojaviti u megamixu, i to kroz nekoliko (3) svoje stvari. Tko još sudjeluje u megamixu? To su Raf, Puff Daddy, Johnny Štulić, Rambo Amadeus, INXS, Yazoo, Queen, M, Yes, The Clash, Atomsko Sklonište, Aerodrom, Oliver Mandić (ovaj što nas gleda sa sike), Prince, Cathy (Loves Blacks), Art Of Noise, De La Soul, Alison Moyet, Off, Lee Marrow, Fat Boy Slim, Sheila E, Scotch, Marrs, Frankie Goes to Hollywood, Dino Dvornik, Eddie Grant, Level 42, Naturalna Mistika, Darko Rundek, Run DMC & Aerosmith, Daft Punk, Beats International, P Lion, Murray Head, Soul II Soul, Michael Jackson te naši prijatelji Kojo V, Ema i Boko  o kome će još biti riječi na ovim stranicama, naći će se i na Top Listi Studija 2002.
Riječ je, kako i vidite, redom o vrhunskim, popularnim i etabliranim izođačima.
Megamix potpisuje dee jay Luke Short, "dijete" ovog Studija, i napravljen je još prije 13 godina, nalazi se na albumu New Session. 🙂 Luke je tada spojio u mix neke strane, ali i domeće stvari, sigurno njemu prirasle srcu. Ja se, naravno, slažem s njim u svemu. 😉 Jednako tako, u mixu su legendarne disco stvari 80-ih godina zajedno sa aktualnim temama kraja tisućljeća. 🙂
Video za ovu stvar napravljen je tek sada, ali nikada nije kasno za pravu stvar 🙂 i učinjen je, naravno, ovdje; u Studiju 2002.
Dub No1 Video rađen je na profi programima, sve Adobe perjanice: Premiere, After Effects i Photoshop. Donji video (podloga spotu) je snimljen u Camtasia Studio programu. 😉
Kako možete vidjeti u videu, spot se vrti u Cool Edit-u, to je uz Fruity Loops (danas FL Studio) noseći program u kojem je napravljen audio dio posla. 🙂
Dakle, nije mnogo (ali nije ni malo 🙂 ); morate svim nabrojenim programima ovladati u potpunosti za potpisati sličan uradak. U Međuvremenu; uključite zvučnike i kliknite na fullScreen. 🙂
Napominjem posebno onima koji prate našu Top Listu: ovaj megamix i nije drugo doli mix svih onih stvari koje se već nalaze u Top Listi Studija 2002, i (ovo je slučajno potrefilo) prezentiramo ga baš ovaj tjedan kada naša Top lista ima malu pauzu, slijedeća Top Lista ide 13.-og ovog mjeseca, to je u subotu.
Hvala Vam svima na interesu. 🙂
Dobrodošli su svi vaši komentari dole.