---
60-e godine (!) elektronska glazba, Klasici…
Kraftwerk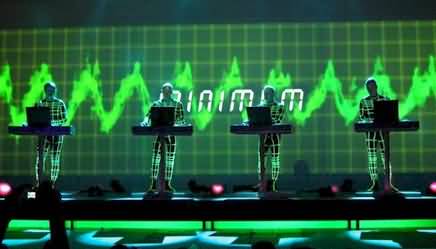 Annie Lennox su, bez diskusije, jedne od najljepših očiju 80-ih.
Kraftwerk, grupa davno spremljena medju klasike glazbenika, umjetnika i inovatora. Osnovani su još 1968. u Düsseldorfu,
Njemačka, i to ih osnivaju Ralf Hutter i Florian Schneider; studenti – klasične glazbe.
Jasno je da su se, kao takvi, i na svom studiju
uvjerili da nije jednostavno, nakon Beethovena, Straussa, ući na taj način u glazbenu povijest. I bolje da je tako, povijest će grupu Kraftwerk
upamtiti kao inovativni band antologijskih ostvarenja i apstraktne elektronike, nedvojbeno ostavivši golem utjecaj na suvremenike (David
Bowie i Donna Summer), cijele kasnije glazbene pravce (electro pop; Human League, Depeche Mode, Yazoo, Yello), te čak i Hip Hop, kroz
sampleove Afrike Bambaataae ('PLanet Rock') te house i techno beatove danas.
Remek djela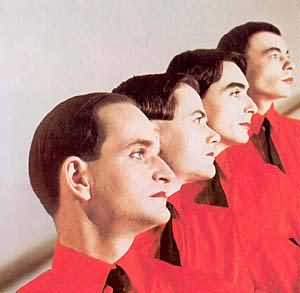 Korijene Kraftwerka naveli smo još 60-ih godina, doduše tada se dvojac Hutter i Schneider nalaze u grupi Organisation. Nakon prvog albuma,
njih dvojica zajedno sa Klaus Dingerom i Thomas Hommanom imenuju se Kratfwerkom, 1971. povijest počinje; snima se album 'Kraftwerk'.
1973. nastupit' će mali ego-trip (zašto i ne bi) i album se zove 'Ralf & Florian'. Mislio sam probrati Kraftwerk albume,
no jednostavno je nemoguće neke ne spomenuti; Do 2005. kada je snimljen live 'Minimum Maximum' bilo ih je – 11, i svi
odreda su remek djela; 'AutoBahn', 'Radio-Activity', 'Trans Europe Express',
'The Man Machine'; svi u 70.-ima, a 'Computer World' 1981. godine. Deset godina kasnije primjetan je, na
glazbenom nebu povratak Kraftwerka jako interesantnim albumom 'The Mix' koji sadrži največe njihove uspješnice, remixirane
i u novim aranžmanima, ali sa starom (dobrom) Kraftwerk patinom. Album je dupli, no, jasno da je i to malo da stane sve što zaslužuje.
Izaberite niže, ili lijevo textove Kraftwerka.
Autor: Oscar Josip Canaby
za Studio 2002.

Tekstovi pjesama :
Last Night A DJ Saved My Life
The Record Keeps Spinin'
When Boys Talk
---
State Farm
Situation
In My Room
Only You
---
Dont Stop Til You Get Enough
Rock With You
Billie Jean
Thriller
State Of Shock
Say Say Say
The Girl Is Mine
---
Computer Love
Neon Lights
Pocket Calculator
---
Conditioned Soul
Here Comes The Rain Again
Beethoven
Don't Ask Me Why
There Must Be An Angel
---
Love Of The Common People
No Parlez
Wherever I Lay My Hat
Every Time You Go Away
Come Back And Stay