Alison Moyet i Vince Clarke;
Početak 80-ih je… Novi Romantizam
Yazoo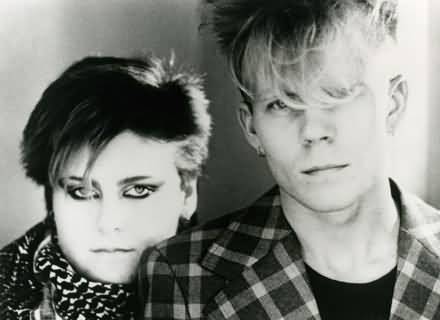 Alison Moyet i Vince Clarke; Yazoo u mladim, novoromantičarskim danima; godina je 1982.
Grupu Yazoo činili su Alison Moyet (vokal) i Vince Clarke (klavijature, gitara)
Vinceu Clarkeu bilo je, jasno je, sudjeno biti uspješan i poznat glazbenik. Istina je da ga, pogotovo naši glazbeni kritičari i neće preveć spominjati, no jednostavno će morati uz imena kao npr. Depeche Mode (i o njima više ovdje) jer Vince je bio i glavni pokretač tog banda, još krajem 70-ih. Gornju fotku izabrali smo prikazujući kako Vince izgleda kao zet kojeg bi svaka majka poželjela, pogotovo sa onakvim novoromantičarskim 'cufom', a donja pokazuje kako i Alison može biti i ljepša od njega, ne samo svojim predivnim vokalom.
Alison i Vince, zaljubljeni par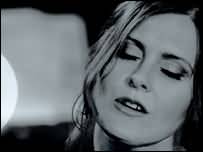 Vince zbog Alison, ali i ne samo zbog Alison napušta Depeche Mode i zajedno sa njom osniva grupu Yazoo. 1982 bijaše antologijska godina,
glazbeno a i šire od toga, to bi zasigurno potvrdili i oboje iz ovog tandema. Yazoo su 'prašili' još samo slijedeće godine; bilo je
vremena za još samo jedan album: 'You And Me Both',a nakon prijenca 'Upstairs at Eric's', ali i to je bilo više nego dovoljno da mnogima postanu prva, pa i prava ljubav.
Najnovija (jako dobra) vijest bila je ta o ponovnom okupljanju grupe Yazoo, no to, najblaže rečeno, nije izazvalo očekivani rezultat,
a ako čujete Yazoo na radiju to će biti njihove stare verzije. Znači, ipak, grijeh je, pa čak i Vinceu – dirati u to.
Alison će, a posebno Vince, nakon raspada Yazoo-a nastaviti uspješnu glazbenu karijeru, drugačije ne bi ni moglo biti; kada je Alison, po mnogima, i po nama; prvi Vokal osamdesetih, a Vince medju prvim autorima.
O svemu tome, i o grupi Yazoo već sam pisao i ovdje, u Studiju 2002; pročitajte više o – Yazoo.
Preostaje nam (Vam) prolistati stare textove, stare melodije. Izaberite text iz izbornika niže:
Autor: Oscar Josip Canaby
za Studio 2002.

Tekstovi pjesama :
Trenutno se nalaziš ovdje:
Studio 2002 > Textovi Pjesama

Last Night A DJ Saved My Life
The Record Keeps Spinin'
When Boys Talk
---
State Farm
Situation
In My Room
Only You
---
Dont Stop Til You Get Enough
Rock With You
Billie Jean
Thriller
State Of Shock
Say Say Say
The Girl Is Mine
---
Computer Love
Neon Lights
Pocket Calculator
---
Conditioned Soul
Here Comes The Rain Again
Beethoven
Don't Ask Me Why
There Must Be An Angel
---
Love Of The Common People
No Parlez
Wherever I Lay My Hat
Every Time You Go Away
Come Back And Stay