Pjevačka ikona 80-ih, predivnog glasa i pojave, to je:
Paul Young
(1956 – )
Jutro,vožnja svakodnevna, put na posao, omiljena stanica, taktovi poznati i oni nešto manje, u spletu zvukova opazih nešto tako blisko, a opet tako daleko, jedan broj koji pokreće riječi iz mog grla, tako svježe, prevrtim sjećanje, godina '84, doba kad su srca i duše ljudi svijeta krenuli zajedno, za one zaboravljene, izopćene, za dobro, glazbom , svjetskim jezikom bez riječi, a počelo je s Do they know it's Christmas, i pokrenilo uragan humanosti i solidarnosti.
Video spot počinje , prve riječi su poslane, i prva zvjezda koja daje svoju duhovnu donaciju, Paul Young, jedinka poznata i slušana, u tim vremenima kad je glazbeni entuzijazam izbijao iz svakog onog tko je postojao na glazbenom podestu. On odrađuje svoju dionicu, uredno, sa srcem, a samo godinu ranije, ostavio je svoj šešir i uselio se u naše domove i sjećanje, Wherever I Lay My Hat,  ta topla i nježna lirika, ta predivna zvukovna mješavina, osvojila nas je.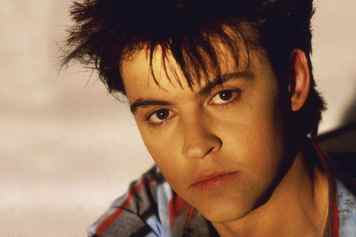 Paul Young vječno mlad će biti u memoriji našoj, kao i mi, na koncu.
Staza uspjeha je otvorena, hitovi se nižu, jedna glazbena priča slijedi svoj tijek.
I kao što to biva ,nakon zenita, zalazak, onaj među ljepšim, to harmonično predvečerje ostavlja za sobom, predivne ritmove, ostavljenog muškarca , koji s bardom talijanskog bluesa, Zuccherom, upisuje prekrasne note, upakirane u predivnu Senza Una Donna.
Godine dolaze do današnjeg iznosa, i nakon mnogobrojnih otvaranja ladice sjećanja, čovjek uskrsnu, hrvatska Dora, rađaonica ne baš ugodnih zvukova, ugostila čovjeka koji je otpjevao povratak i ostanak, u srčanoj Come Back And Stay,  odradio svoje, s puno srca, vratio se i nije ostao u glazbenoj koridi, ali jest u našim neuronima, jer ipak smo, kao što će i ispjevari u Love Of The Common People; obični ljudi od krvi i mesa, s nadjevom od ljubavi, koji ne vole biti ostavljeni, bar ne kao u elegičnoj Every Time You Go Away.
Četvrt vijeka je iza nas, putovali smo kroz njega uz prekrasne note čovjeka koji je uvijek živio svoje pjesme, i u koje smo bili uživljeni. Zbog toga, nema više riječi, upravo, ne treba ih izustiti; No Parlez, prvi album, koji je iznjedrio toliko ljepote, dao je smjernicu, u kojoj je govor suvišan, samo prepuštanje glazbi je dovoljno, i sjećanje, svakako.
Mr Noteman za Studio 2002.


Tko je Mr Noteman?
Mr Noteman vrhunski je glazbeni poznavatelj i pratitelj muzičkih zbivanja iz vremena kada je klasika bivala aktuelna.
Poznati (širom ulice) je pomorac i pustolov, generacija i prijatelj sa Oscarom Josipom Canabyijem, otuda i suradnja sa Studiom 2002.
Mr Noteman suvremenik je Studija 2002 još u 80-im godinama, kasnije i uspješan poduzetnik i businessman, no uvijek sa dozom stare ljubavi i (nove) romantike.
Tekstovi pjesama :
Last Night A DJ Saved My Life
The Record Keeps Spinin'
When Boys Talk
---
State Farm
Situation
In My Room
Only You
---
Dont Stop Til You Get Enough
Rock With You
Billie Jean
Thriller
State Of Shock
Say Say Say
The Girl Is Mine
---
Computer Love
Neon Lights
Pocket Calculator
---
Conditioned Soul
Here Comes The Rain Again
Beethoven
Don't Ask Me Why
There Must Be An Angel
---
Love Of The Common People
No Parlez
Wherever I Lay My Hat
Every Time You Go Away
Come Back And Stay