Prošle noći mi je dee jay… /Bilo je svašta 🙂 /
Indeep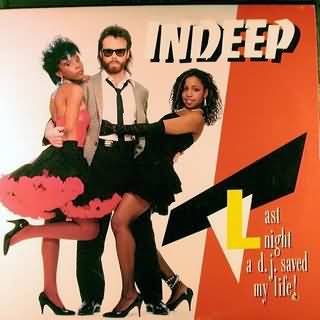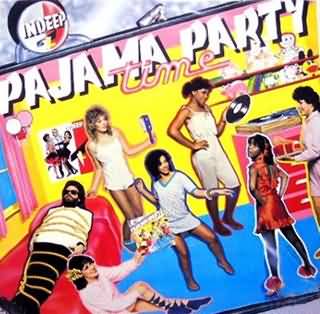 Last Night A DJ Saved My Life i Pajama Party Time, omoti..
Jer 80-te su bile godine… to ne kaže samo pjesma, u to nije teško povjerovati ni onima rodjenim desetljeće kasnije. Istina,
tada nije bilo mobitela ni interneta, a radio i TV kanala neusporedivo manje, neću ni pisati koliko… 🙂
No, stoga je bilo mnogo toga drugog, u 'originalnom' pakiranju. Osamdesetim godinama vladala je disco muzika u velikoj mjeri, i to nauštrb
onih koji su priznavali rock i samo tvrdi rock; ostala i do danas – kao prava klasika. (Jer, sve je to Rock And Roll.)
Indeep su napisali najplesnije stranice te priče 80-ih, umnogome učinili da (i) zbog njih – mnogim Disc Jockeyima, pa i današnjim,
beat 80-ih bude posebno pri srcu.
Da, tako su početkom 80-ih Disc Jockeyi dobili svoju himnu ali i ne samo oni, bila je to oda takvom vremenu, i načinu razmišljanja mladih.
Last Night A DJ Saved My Life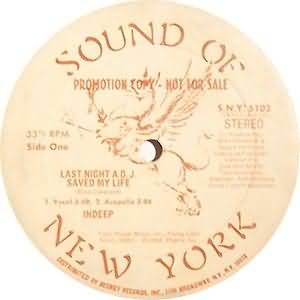 Jasno, govorimo o temi Last Night A DJ Saved My Life koju bismo bez zadrške mogli proglasiti i jednim od simbola tog
vremena. Tako sam i osobno, nekoliko godina kasnije, sredinom osamdesetih, imao priliku naći se oko 2 u noći, recimo, u Greek Townu u Detroitu, u
crnačkoj četvrti i biti, zajedno sa svojim kolegom sa broda jedini bijelac na vidiku od par milja (bijele se zubi i oči crnaca okolo); i ne osjećati se loše. Da, taj duh
pacifizma zadržao se je još i tada (danas, u najmanju ruku bilo bi riskantno tako nešto), crnci oko nas plesali su uz kazetofone po
ulicama, i repali, bio je to vrhunac Hip Hopa, ali i – isti onaj feeling sa početka priče.
Last Night A DJ Saved My Life
naslov je prvog albuma Indeepa izdanog 1983. godine, dok se sam naslovni singl pojavio ranije, i nosi 'tip' 1982. a izdan je pod etiketom
'Sound of New York' kako je i vidljivo gore. Sada znamo i u kojem je smjeru potrebno ići u istraživanju nekih, blago rečeno,
interesantnih stvari; naime, mi u Studiju 2002 imamo fonoteku od nekih 250-300 CD-ova, koji sadrže brojne kompilacije, ovakve i onakve,
uključujući i Rhythm and blues i Funky kompilacije, ali na nijednoj od njih nema Indeepa?
Jednako tako, u raznim rock enciklopedijama na našem jeziku, ponovno nema Indeepa? Tako i meni dragi i, usprkos tomu, rado čitani autor
'sjajna' imena uporno izbjegava moj omiljeni trojac.
Eto, (i) stoga, ali ne samo stoga, ovdje smo napisali par riječi o Indeep-u.
Indeep su snimili tri albuma; Last Night a DJ Saved My Life (1982), Pajama Party Time (1984) i The Collection (1991). Kako smo rekli,
dolaze iz New Yorka, pod vodstvom gospodina imena Michael Cleveland. Da, to je vlasnik legendarnog glasa u legendarnom rapu
There's not a problem that I can't fix, 'cause I can do it in the mix,
eto, nazvao sam ga tako, i stojim iza toga. Sada sam, možda malo, i podlegao svojim starim i prvim ljubavima, tako je istina da, priznat' ću, a znam da nisam usamljen;
meni je njezin glas najljepši na Svijetu, kada pjeva Last Night A DJ Saved My Life, to je kao slavuj; ona je
Réjane Magloire. Treći član Indeepa zove se Rose Marie Ramsey.
Indeep nikako nisu ni 'one hit wonder', imali su 6 singlova, od toga 4 visoko pozicionirani na Top listama;
Last Night A DJ Saved My Life
dospjela 1982 na američkoj R+B Top listi do No.10, na Club Top listi do No.02, a u Engleskoj do No.13.
The Record Keep Spinin'
1983. godine dolazi na američkoj Black listi do No.45. Jasno, ni Top liste nisu uvijek merilo, a kad smo kod Black liste, priznat ćete da
Vas ima priličan broj, koji su čuli rečeni rap (nak' se javi tko nije čuo), i sada vide da se radi, o bijelcu, a ne o crncu? Istina,
družio se dosta sa crnkinjama, pa je to valjda utjecalo? 🙂
When Boys Talk
takodjer je iz godine 1983 a dolazi do američke R+B Top liste do No.32, Club liste No.16, a u engleskoj No.67.
Već tada Indeep zauzima poziciju svojim prepoznatljivim funky zvukom; funky bubanj sa 'Indeep činelama' tada je, u najmanju ruku znak i poziv za izlazak na plesni
podij, danas samo raritet i sjećanje na taj funky beat 80-ih…
Te iste, 1983. godine Indeep snima funky veselicu "Buffalo Bill" koji dolazi do US R+B No.81, i još dva singla; "The Rapper" i
"The Night the Boy Learned How to Dance" oba godine 1984. Ovo sve kao podsjetnik i glazbenim urednicima splitskih radio postaja.
Kasnijih godina, i desetljeća, Indeep će ostati Oda Disc Jockejima i Nota sretnijeg i zvučnijeg klupskog i općeg života.
Autor: Oscar Josip Canaby
za Studio 2002.

Tekstovi pjesama :
Trenutno se nalaziš ovdje:
Studio 2002 > Textovi Pjesama

Last Night A DJ Saved My Life
The Record Keeps Spinin'
When Boys Talk
---
State Farm
Situation
In My Room
Only You
---
Dont Stop Til You Get Enough
Rock With You
Billie Jean
Thriller
State Of Shock
Say Say Say
The Girl Is Mine
---
Computer Love
Neon Lights
Pocket Calculator
---
Conditioned Soul
Here Comes The Rain Again
Beethoven
Don't Ask Me Why
There Must Be An Angel
---
Love Of The Common People
No Parlez
Wherever I Lay My Hat
Every Time You Go Away
Come Back And Stay